Daniele Ghisi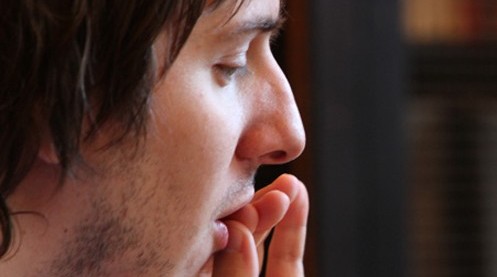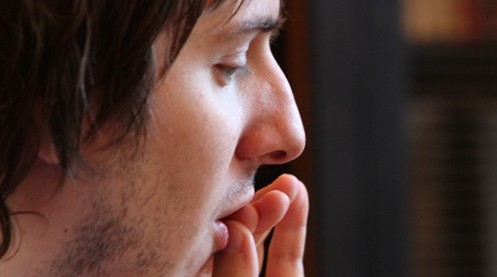 Divertimento Ensemble – IT
Ircam – FR
"An Experiment With Time" (AEWT) is a project involving the creation of a piece for video and electronics, and culminating in a "live" version of it, for amplified ensemble, video and electronics.
The project is inspired by the book "An Experiment with Time", by John William Dunne: linearity of time is a collateral event of consciousness, whereas, inside dreams, past and future coexist.
Watch the video-trailer for his project:
© Daniele Ghisi
The video setup is made of three juxtaposed screens. The central screen represents the writing of the main character's diary, and will be a journey across its reflexions and thoughts, spanning one full year, and looping seamlessly at the end. The other screens (only active in some specific sections of the video) suggest the presence of two "aliases" experiencing different temporalities (the left one looping through a single day, and the right one living a complete life).
The installation is a 46min – loop consisting of video and electronic music.
© Daniele Ghisi
Daniele Ghisi comments on his project:
"An Experiment with Time" is probably the biggest artistic challenge I have faced up to now, both for its duration and for the effort it involved – as I am writing this note, I am still finishing working on the score for its live version.
It is, at present, the project about which I am most passionate: this is why I am extremely grateful to the Ulysses network and to the partners that have made this possible (first of all Ircam and Divertimento Ensemble). I am also extremely glad I had the chance to share this passion with many participants (first of all Luigi Acerbi and Paolo Puggioni) and with other festivals which have so kindly shown their interested in it.
Somehow, "An Experiment with Time" represents my widest attempt to think project-wise instead of piece-wise – and I find this line of thinking quite important, especially for contemporary music."
Project Tour Calendar
(you can find photos from the tour below)
June 2nd + 3rd 2015, Maison de la Poésie, IRCAM ManiFeste-2015, Paris (FR) – installation/ video and electronics
17h30 – 19h15
September 13th – 18th 2015, Progetti Arte Contemporanea, Piazza delle Murate, Florence (IT), FLAME festival –
installation/ video and electronics
September 18th 2015, KLAPEIDA Concert Hall – Klapeida (LT) –
installation/ video and electronics
December 12th + 13th 2015, Teatro Litta, Corso Magenta – Milano (IT) –
installation/ video and electronics:
12th December : opening at 17h00.  Showings at 18h00, 18h45, 19h30, 20h15, 21h00, 21h45.
13th December : showings at 11h00, 11h45 12h30, 13h15, 14h00, 1445, 15h30, 16h15, 17h00
January 26th 2016, Teatro Litta, Corso Magenta – Milano (IT) –
20h30 – live version/ video and electronics + Divertimento Ensemble – World Premiere
March 5th 2016, Centre Pompidou – Paris (FR) –
20h30 – live version/ video and electronics + Divertimento Ensemble – French Premiere
Photos from the tour
Paris – Installation June 2015 (FR)
© Daniele Ghisi
Florence – Installation September 2015 (IT)
© Zeno Cavallari
Klapeida – Installation September (LT)
© Daniele Ghisi
Milano – Installation December 2015 (IT)
© Divertimento Ensemble
Milano – World Premiere Live version for ensemble and electronics January 2016 (IT)
+++
Artistic credits:
Daniele Ghisi, composition, video, computer-music design
Divertimento Ensemble
Yann Philippe, IRCAM video manager
Sylvain Cadars, IRCAM sound engineer
Commission:
Divertimento Ensemble and Ircam-Centre Pompidou
Coproduction:
IRCAM-Centre Pompidou, Paris, France / Divertimento Ensemble, Milano, Italy (live version)
Coréalisation Maison de la Poésie, Paris, France
Organized in partnership with
Divertimento Ensemble - IT
Ircam - FR