Academy + Festival impuls 13-24/ 02/ 2015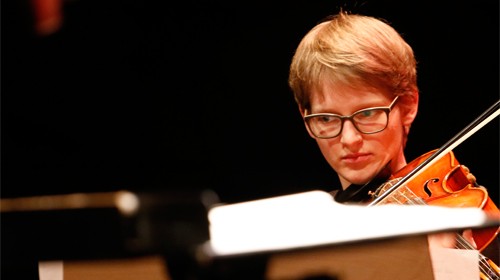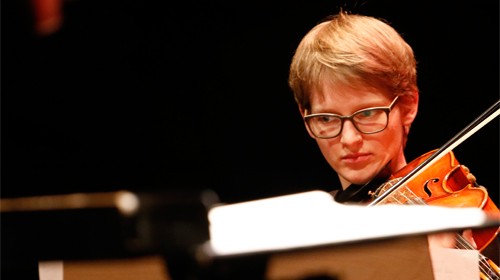 impuls – AT
Founded by Beat Furrer and Ernst Kovacic impuls, the international Ensemble and Composers Academy for Contemporary Music  and Association for the Communication of Contemporary Music has developed into one of the internationally leading institutions in this field within shortly – not least for its international team consisting of renowned composers and musicians as tutors, who warrant and secure highest quality already by themselves.
With instrumental classes and ensemble work, composition classes, many-faceted lectures, call for scores and special programs such as reading sessions with Klangforum Wien, Composition beyond Music, electronic and improvisation workshops … and also possibilities for participants to present their work in public, impuls offers to young musicians and composers from all over the world an intense training and holistic approach to contemporary music both in a theoretical and a practical way.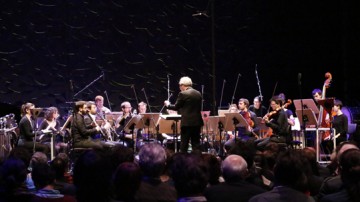 © Christine Schörkhuber
impuls promotes and supports young composers not only through its Academy, but also through the international impuls Composition Competition . Every second year impuls commissions new works for ensemble from young composers selected by a jury. Subsequently these composers are invited to take part in the impuls Composition Workshops in Vienna respectively in Graz, where their new works are collectively rehearsed and discussed extensively with musicians of world-class ensembles such as Klangforum Wien.
The world premieres of these pieces are to be witnessed at the prestigious Opening of the impuls Academy and Festival in Graz in the presence of the young composers.
And for the fourth time, the Academy was accompanied and enlarged by a daily Festival program offering various possibilities to experience new and contemporary music to a broadening audience with open ears and external Academy visitors. Hereby Graz was again turned into a festival city and a center of contemporary music and the arts.
>> Some more hard facts on impuls 2015
ACADEMY
* 199 regular Academy participants  and another 9 external participants  coming from 4 continents and more than 45 nations  plus additional international guests and external visitors were accepted to the 9th International Ensemble and Composers Academy for Contemporary Music in 2015 (this is more than double the size compared to 2009 and a rise of 10% compared to 2013; close to 500 musicians and composers applied; in general: again strong rise of applications, again a good mix of Austrian and international participants).
© Christine Schörkhuber
* For the second time impuls was part and partner of the European Project (ULLYSSES NETWORK) realising several special projects  within this network (Composition beyond Music + Young Ensemble in Residency + Composer Exchange Program impuls-Royaumont and IKI/Opus XXI + Double bass solo- Dario Calderone).
Thus – besides Academy ensembles formed on spot – with Ensemble Nikel an already existing young ensemble was included in the Academy offering reading sessions and premiering several works by impuls composer participants besides presenting pieces by tutor Chaya Czernowin and winner of the impuls Competition Marco Momi.
At Georg Nussbaumeręs Masterclass "Composition beyond Music " composers realised site-specific works at esc medien kunst labor, and were visually accompanied and documented by Christine Schörkhuber. A call for score amongst the participants gave rise to several new works for double bass  to be read and premiered by Dario Calderone . Last but not least with Raphaël Languillat  and Benjamin Scheuer  two young composers
could be included and featured at the impuls Academy and its partners through special exchange programs.
* Both offers for composition, electronics and instrumental classes could be enlarged  again (with more than 30 tutors, classes also for improvisation, yoga and intermedia projects amongst others) and new ones were installed successfully also for e-guitar and vocal ensembles for the first time.
* Besides individual and group lessons as well as chamber music and ensemble work also lectures, discussions , instrumental presentations and special workshops (f. e. Piano Preparation Workshop, Free improvisation – instant composing, brass instruments: specifics, notation, techniques, possibilities, Contemporary Techniques on the Saxophone…), a jour fix for composers , workshops on various theoretical topics as well as with practical impact (f. e. Self-marketing platforms and promotion, Why (not) programming contemporary music etc.)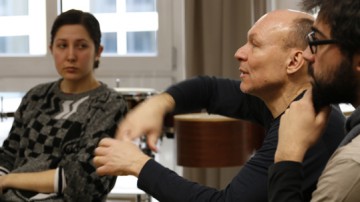 © Christine Schörkhuber
* An additional workshop  was organised specially for young pupils  of the school pilot project Klex (Marschallgasse, Graz).
FESTIVAL
* 12 days with concerts of both young as well as internationally renowned musicians and composers (including also a Marathon concert  – lasting more than 7 hours –, the impuls MinuteConcerts at various locations in the city – lasting more than 12 hours –, as well as a format called "A Day on Campus and in the City", with concerts and presentations all around the clock from 10 am to 10 pm), concerts with young ensembles  such as Ensemble Schallfeld und Nikel, premieres of impuls commissions , composers, talks, public reading sessions  and rehearsals, afternoon and evening lectures, round tables, workshop presentations… set up a festival program of various kinds and highest density.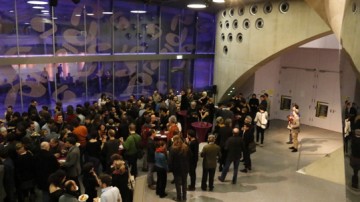 © Christine Schörkhuber
* Premieres, contemporary compositions  – amongst others also impuls commissions – as well as compositions  of the 20th century  and improvisations :  51 public world premieres, plus 1 Austrian first night; altogether  178 works plus several improvisations performed in public;  further works were  rehearsed during the Academy).
* With an exhibition  of mainly installation pieces plus a couple of performance s and video screenings that were all conceived during the special program Composition beyond Music and concerts placed at various galleries  and art institutions in Graz impuls also enforced the link of music and the visual arts.
Organized in partnership with
Gaudeamus - NL
IMD - DE
impuls - AT
OPUS XXI / HfMT- DE
Royaumont foundation - FR
Time of Music - FI